Remembering Dennis Patrick Tracey
03/16/2018
Love, Thoughts & Prayers for the Friends & Family of Dennis Tracey.
Dennis Patrick Tracey was a beloved friend in the powerboat community. There are so many things and so many stories about this man that we can go on forever and never have a bad thing to say. Dennis (DPT) truly had a heart of gold.
Dennis played a part in Offshore Racing and was a part of so many people's lives. It is safe to say that no one ever walked away from Dennis without a smile on their face. Dennis will be missed greatly by all.
If you have any pictures and would like to have them added, send the to: opa@oparacing.org.
Gonna miss you Buddy!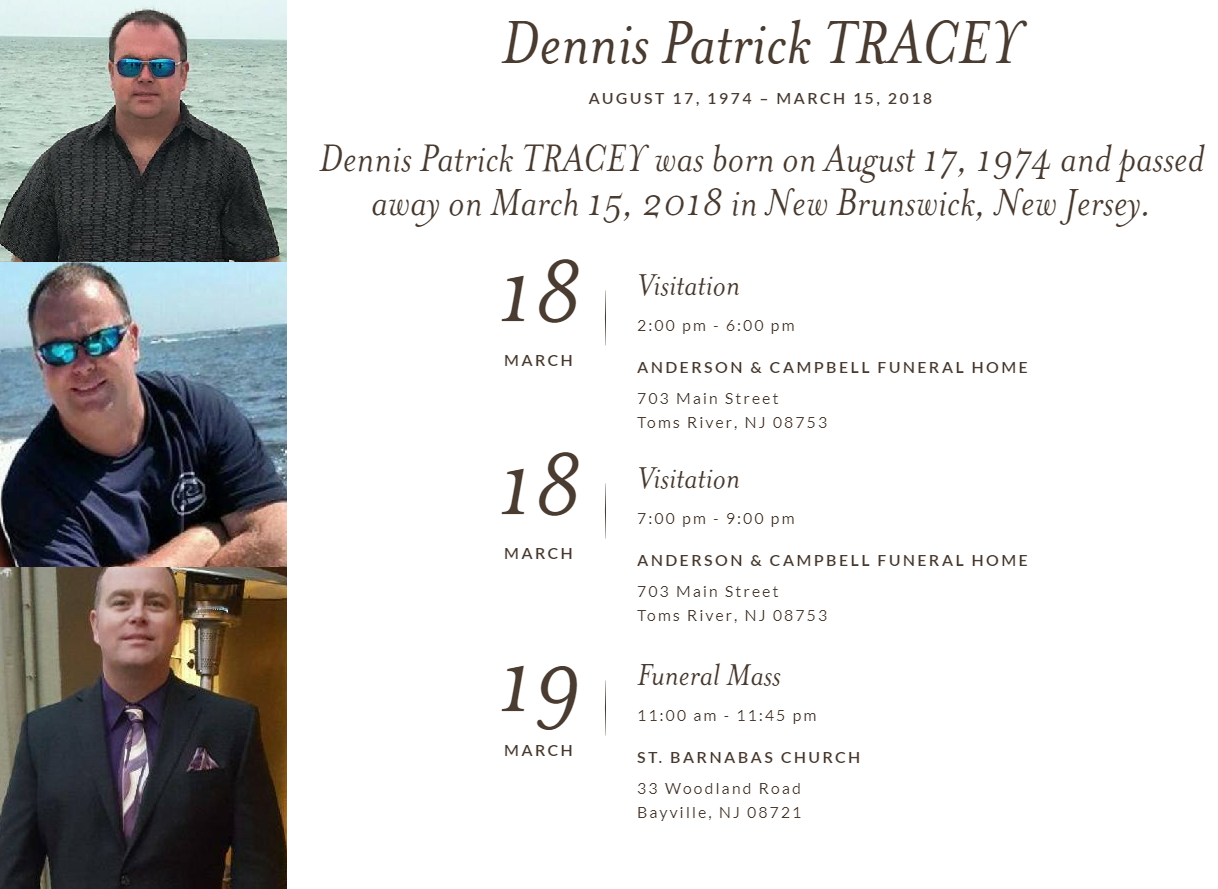 Visitation will take place from 2pm- 6pm & 7pm-9pm on Sunday, March 18, 2018 at the Anderson & Campbell Funeral Home (703 Main Street, Tome River, NJ 08753). Mass will take place at 11am at the St. Barnabas Church (33 Woodland Road, Bayville, NJ 08721).
Dennis Patrick Tracey, 43, of Beachwood, NJ, passed away on March 15, 2018, at Robert Wood Johnson Medical Center in New Brunswick. He was born in Hackensack and grew up in Beachwood with two dedicated parents. Dennis graduated from Toms River H.S. South and was the manager of the parts department at Ocean Beach Marina in Lanoka Harbor. He enjoyed boat racing and NASCAR. Dennis was an exceptional person and loved by many. His family appreciates the outpouring of support and sympathy.
Dennis was predeceased by his father Joseph D. Tracey in 2003. He is survived by his loving mother Judith M. Tracey of Beachwood, and his many loving aunts, uncles and cousins. Dennis was a devoted son, and a fun loving person. His presence will be dearly missed by friends and family.
https://www.dignitymemorial.com/obituaries/toms-river-nj/dennis-tracey-7791528
http://www.legacy.com/funeral-homes/new-jersey/toms-river/anderson--campbell-funeral-home/fh-10670