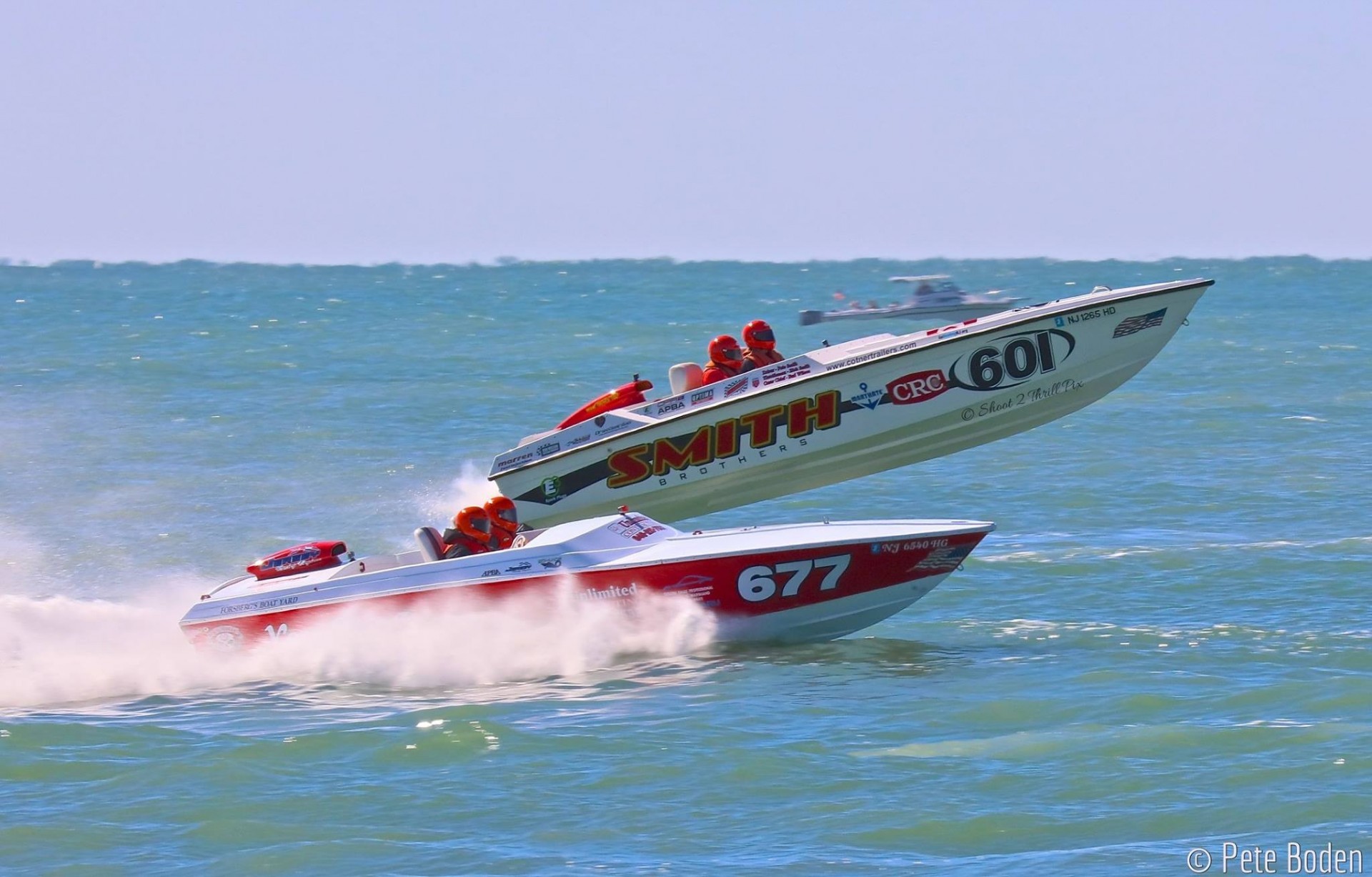 RESULTS: Englewood Beach Waterfest/OPA World Championsips
November 19 & 20, 2016
​
Class 5: 1st - 546 Reinforcer, 2nd - 561 Boxer, 3rd - 518 Rufstr, 4th - 540 Pump It, 5th - 515 Coastal Boat Sales, 6th - 528 Good News Pests, 7th - 541 Two Cruel, 8th - 509 Raven, 9th - 517 Midwest Boat Party, 10th 507 Tunnelvision, 11th 505 CISCO, 12th 502 Synergy Prototype Stamping, 12th 539 Repeat Offender, 15th - 512 Specialized Racing, 15th - 513 Wazzup II. Super Vee Lite: 1st - 29 Typhoon, 2nd - 2 BoatFloater, 3rd - 21 Pirate Racing, 4th - 32 Woah Mama, 5th - 13 AlbrittonFruit.com, 6th - 77 Done Deal II. Extreme: 1st - 7 Team CRC, 2nd - 52 Envy, 3rd - 11 Alex & Ani, 4th - 79 Wicked Sensation......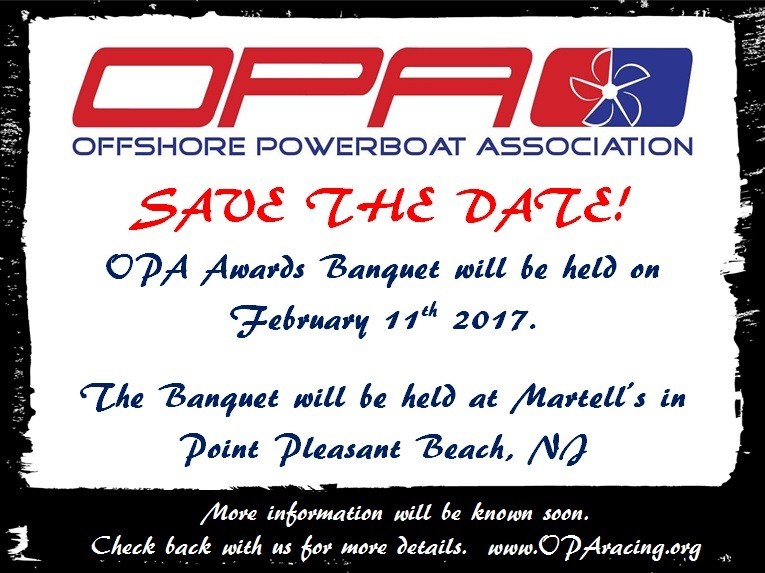 SAVE THE DATE: Annual Meeting & Winter Awards Banquet
December 12, 2016
​
OPA Awards Banquet will be held on February 11th 2017.
The Banquet will be held at Martell's in Point Pleasant Beach, NJ
More information will be known soon. Check back with us for more details.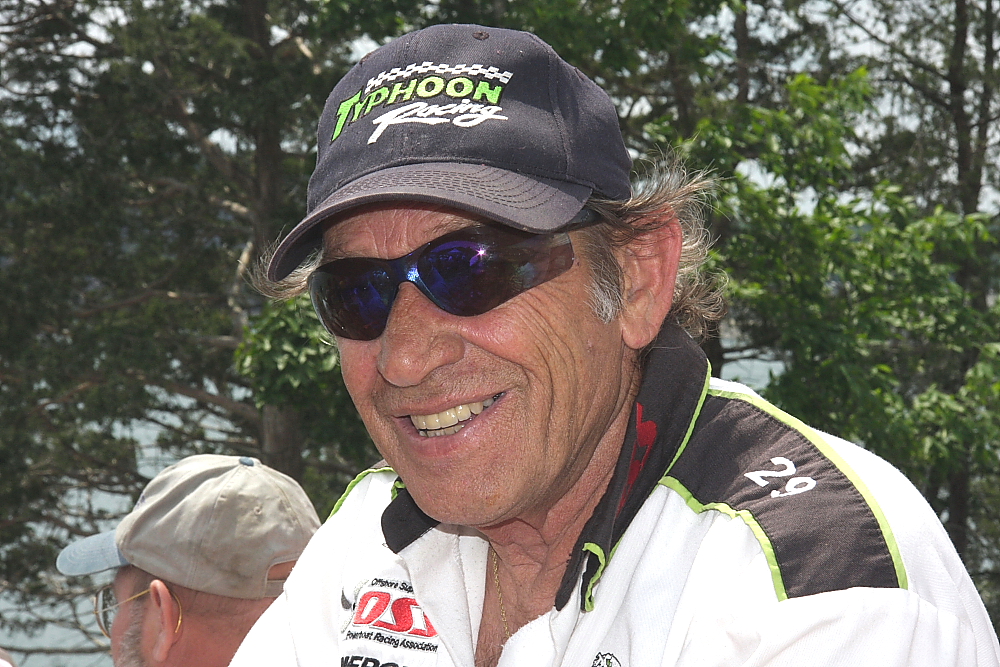 2016 Nomination Submission for the Jimmy Welsh Trophy
December 30, 2016
The memory of Jimmy Welsh lives on with Jimmy Welsh Trophy, and it's that time of year for team owners to nominate one of their crew to receive this honor.
Jimmy was dedicated to the sport, his team and his friends. OPA continues to honor a team member that displayed similar qualities to Jimmy throughout the past season.
It's up to you, as a team owner to tell us who and why this honor should be bestowed upon you nomination. So please take a few minutes and write a brief summary about your most dedicated team member and what they did during this past year to deserve this award. Ballots will be generated.....

2017 Annual Meeting & Awards Banquet
January 13, 2017
Another year in the books for 2016 OPA Racing season with races in Point Pleasant Beach, NJ; Lake Ozark, MO; Atlantic City, NJ; St Clair, MI; Port Huron, MI/Sarnia, Ont, Can; Fall River, MA; and Lake Hopatcong, NJ. The town of Englewood once again welcomed us with open arms and gave us two days of beautiful weather to race and allowed us to crown our World Champions! OPA Racing would like to congratulate this year's APBA Hall of Champions inductees.
On February 11, 2017, we will once again gather celebrate the OPA National Winners and have our annual meeting in Point Pleasant, New Jersey. We will also have LIVE entertainment for you enjoyment. Congratulations to the 2016 National Winners.....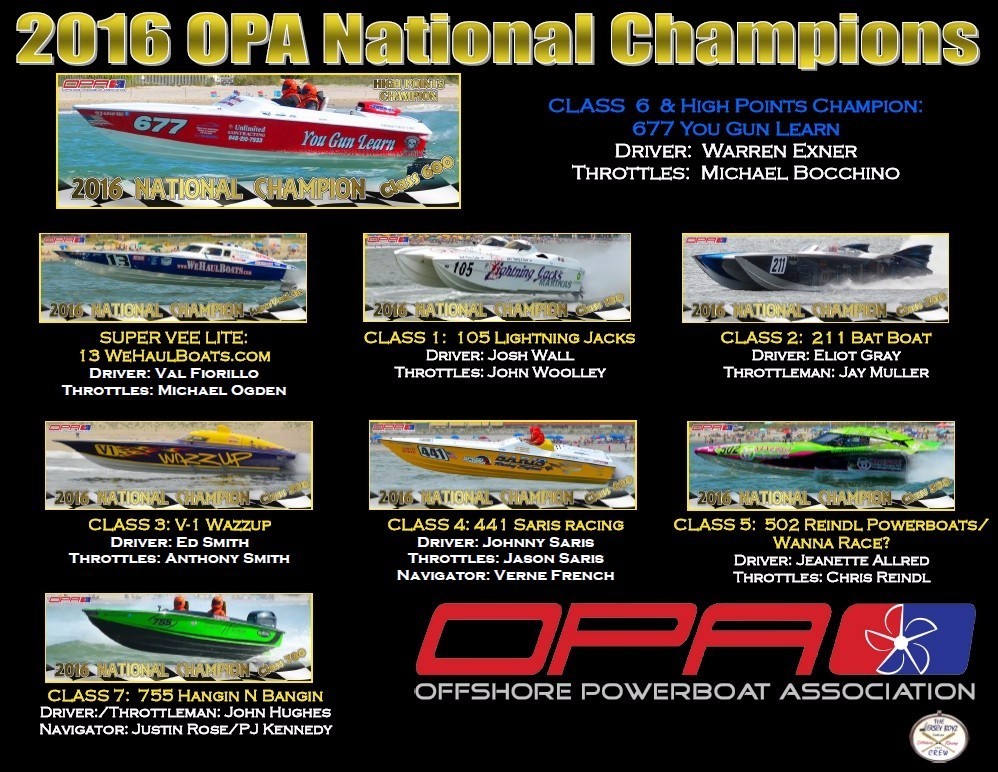 2016 National Winners Are....
December 31, 2016
Class 6 National Champion & High Point Champion: #644 You Gun Learn; Driver: Warren Exner & Throttles: Michael Bocchino. SUPER VEE LITE National Champion: #13 WeHaulBoats.com - Driver: Val Fiorillo, Throttles: Michael Ogden. CLASS 100 National Champion: #105 Lightning Jacks - Driver: Josh Wall, Throttles: John Woolley. CLASS 200 National Champion: #211 Bat Boat - Driver: Eliot Gray; Throttles: Jay Muller.....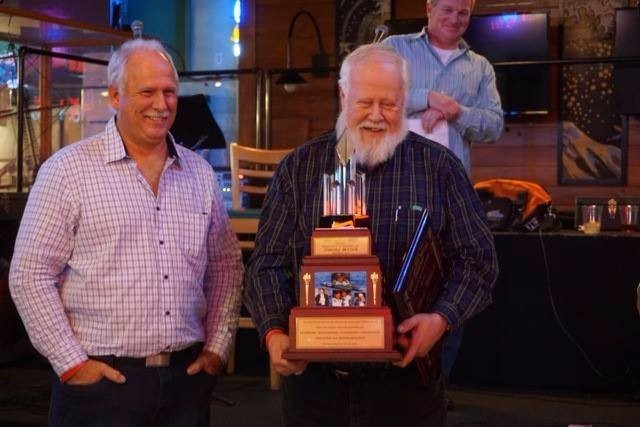 OPA Awards Banquet Celebration
February 17, 2017
Coming off a very successful 2016 racing season, the OPA Teams converged at the Amethyst Beach Motel in Point Pleasant Beach, NJ, which hosted our annual meeting. After our meeting we moved down the street to Martell's Lobster House
As expected, the awards banquet is always more like a family reunion for wayward racers. Attendees came from Massachusetts, Maryland, Michigan, New York, Pennsylvania, Virginia, and New Jersey. It was an awesome night with some of the typical shenanigans but with the warm bond of close friends and family. Entertainment was provided by "Guns 4 Hire".......