03/12/2018
released by Roger Berkon/OPA Markets
In 2017 Resorts World Bimini (RWB) set out to develop an Offshore Powerboat Race & Ocean Powerboats Lifestyle Festival. It was planned to be a three year program that included production elements, creative values, and a marketing and management style that all could take pride in while protecting the legendary (historic) 'Islands of Bimini' brand, and the commercial image and reputation of Resorts World Bimini as 'the-cut-above' and a resort that maintains a genuine concern for the surrounding sea, the island environment, world class hospitality, the 'guest experience', its commercial partners and its targeted ocean sports audiences. The goal was to create an experience where, for a few days, the commercial partners, the event participants, the race teams and the guest visitors feel differently than they do at any other time in their daily lives. The event was not planned to be just another powerboat racing event. It was meant to be a four to five-day ocean sports lifestyle experience where the commercial partners, the guest visitors and the event participants felt they all were a part of the Resorts World Bimini lifestyle.
The Resorts World Bimini Offshore Powerboat Grand Prix I (2017) was by all standards a successful first year event staffed and managed by the very best from Resorts World Bimini and the Hilton Hotel at Resorts World. Professional race management was provided by Offshore Powerboat Association- OPA.
The first-year (2017) event costs exceeded four hundred fifteen thousand dollars of which Resorts World Bimini paid in its entirety. Because of the complexity of a foreign (Bahamas) based venue and an almost one hundred percent US participant and fan / guest base, commercial participants and partners (sponsors) were extremely difficult to attract and involve including the Bahamas Ministry of Tourism.
Medical Evacuation Aircraft cost back to Broward General Medical Center, Ft Lauderdale for a two-patient capacity with inflight / onboard trauma team is twenty thousand dollars. This is the cost for the on-site rotary wing medical evacuation aircraft. This type aircraft is a must in that there is no adequate medical facility on island to handle the treatment of possible race injuries.
Further to the explanation for cancellation is the fact that I was not able to gain any appreciable amount of commercial participation from within the performance marine industry or other centers of commerce to offset the inordinate costs. And, here again, for 2018, all effort to gain Bahamas Ministry of Tourism support, or meaningful participation was not successful.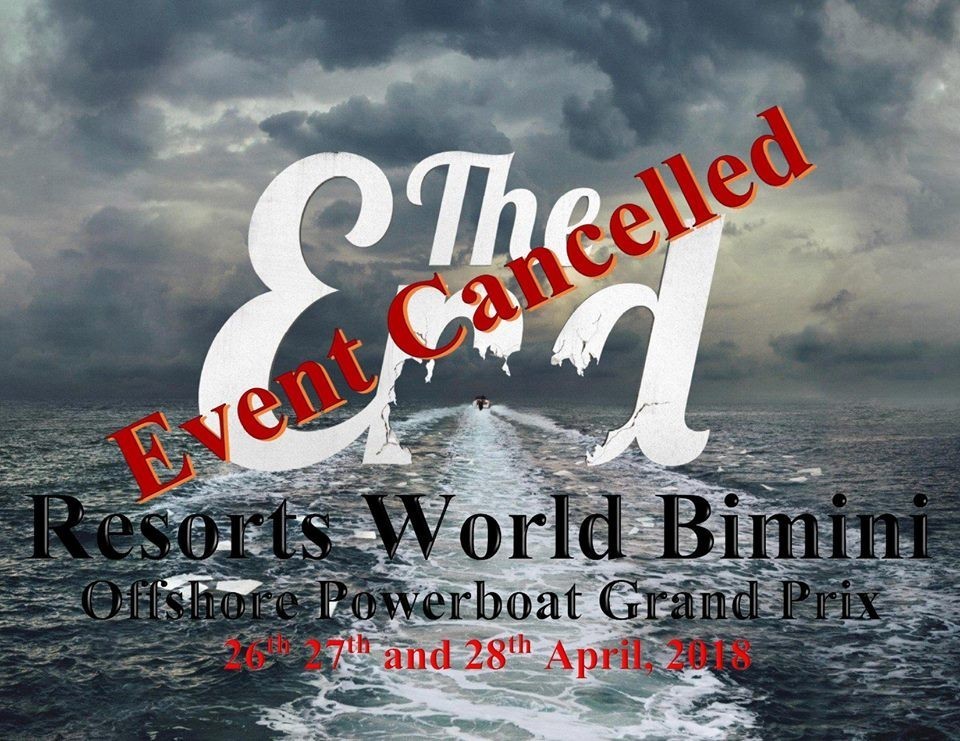 As to the cancellation of the Resorts World Bimini Offshore Powerboat Grand Prix II scheduled for 26th 27th and 28th April 2018; it has been determined that the Offshore Powerboat Race & Ocean Powerboats Lifestyle Festival's second year development and production costs are disproportionately high versus the promotional and marketing benefits, impressions, and related revenue generated during the four-day event period and any good will developed and utilized in the following one hundred eighty days. The disproportionately high costs for Resorts World Bimini (Bahamas) as opposed to the same costs in a similar US venue include, but certainly are not limited to, the following: Race Boat and Service Equipment cost to ship from Ft Lauderdale-Bimini-Ft Lauderdale per freighter is twenty-two thousand dollars each way or forty-four thousand dollars round trip. Depending on the size of the race boat the freighter can hold as many as ten race boats. That equates to a transport cost of four thousand four hundred dollars plus three hundred dollars in US / Bahamian Customs and EPA documentation, PLUS 3.5% of the stated race boat value for Loss in Transit Insurance. For example, if the stated value of the race boat is two hundred fifty thousand dollars the insurance premium for that (one) race boat is eight hundred seventy dollars each way. Your total shipping cost per boat (this example only) is six thousand four hundred fifty dollars ($6,450.00) each. It takes a minimum of two (02) freighters at sixty-four thousand five hundred (64,500.00) each or a total of one hundred twenty-nine thousand dollars (129,000.00) PLUS to ship a fleet (20) of OPA Race Boats.