OPA Racing Annual Awards Banquet
February 12, 2018
Once again the OPA Teams converged in Point Pleasant Beach, NJ, to pay honor to the 2017 National Champions and other Acheivements.

As expected, the awards banquet was more like a family reunion for wayward racers. It was an awesome night with some of the typical shenanigans but with the warm bond of close friends and family. Entertainment was provided again by "Guns 4 Hire".
The highlights of the evening during this year's awards ceremony were as follows:

The National Champions for the 2017 season were:
Extreme - Miss GEICO

Super Stock - Shadow Pirate

Super Vee Lite - Typhoon

Class 1 - Lightning Jacks

Class 2 - Bat Boat

Class 3 - Strictly Business

Class 4 - Saris Racing

Class 5 - Specialized Racing

Class 6 - You Gun Learn

Class 7 - Goofin' Around
In recognition and sincere gratitude for selfless dedication & continued supports of offshore racing, Dee Ungarten received an Appreciation Award.
In 2017 we saw an exception feet by a rookie driver in which the National Championship & World Championship was earned. Congratulations to "Rookie of the Year" Tom Crowley of Typhoon.
The "Stugots Cup" (High-Points Champions) was presented to the team that has the highest number of points regardless of class. This year it was presented to Louie Giancontieri & Johnny Stanch of "Strictly Business".

The coveted "Godfather Cup" goes to an individual or team that demonstrates goodwill, camaraderie, professionalism and sportsmanship throughout the year. This trophy was presented to Louie Giancontieri of "Strictly Business".

The "Jimmy Welsh Trophy" goes to an individual non-racing team member who displays the similar qualities that Jimmy brought to the sport. The recipient of the Jimmy Welsh Trophy went to Mark Miskuff of "Strictly Business".
In a feet that is hard to achieve, there was a team in 2017 the won the National Title, World Championship and were the overall High-Points winner. The Triple Crown was awarded to Louis Giancontieri & Johnny Stanch of "Strictly Business"
We also welcomed Scott Begovich & Roger Berkon to the board of directors of OPA Racing.
Congratulations to all the 2017 winners!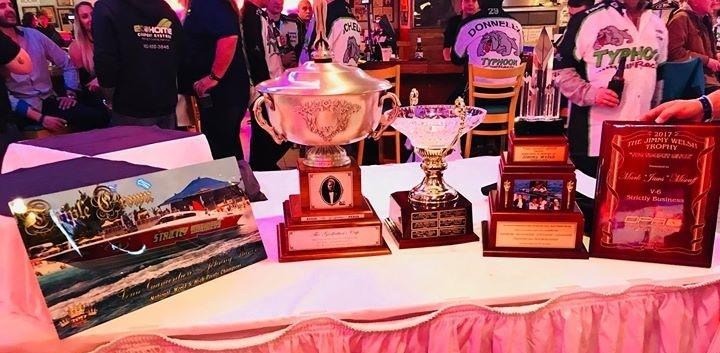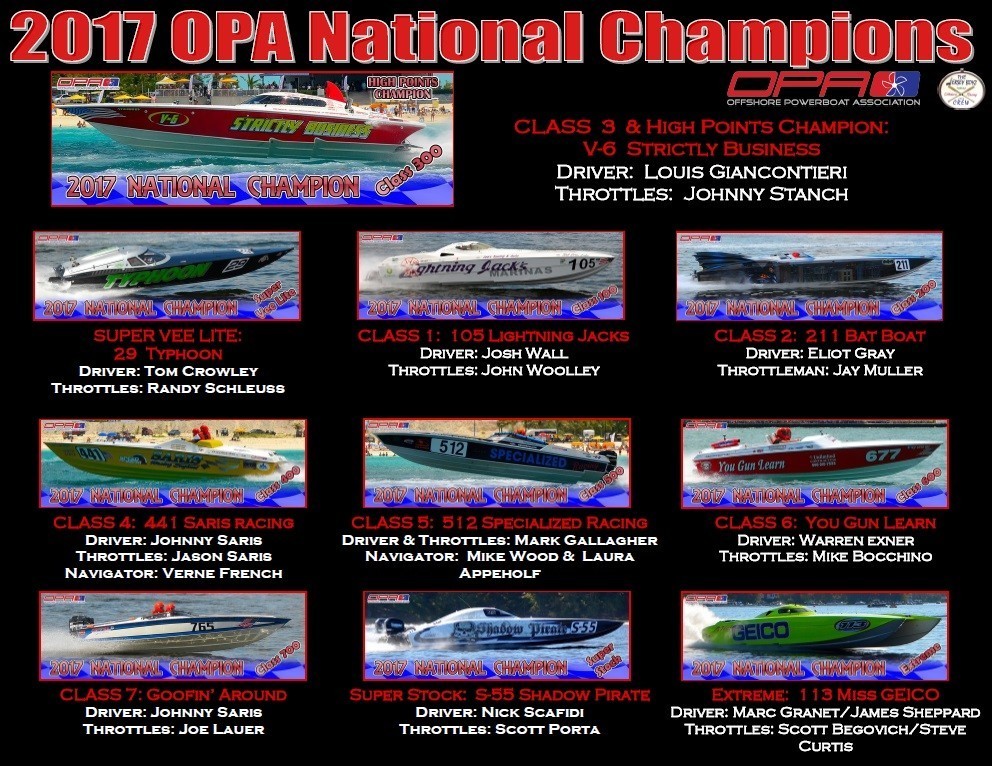 The 2018 OPA Racing schedule has been amended with the Ocean City Grand Prix being added to the schedule.
April 25-29 RESORTS WORLD BIMINI GRAND PRIX Bimini, Bahamas
May 18-20 POINT PLEASANT BEACH GRAND PRIX Point Pleasant Beach, New Jersey
June 1-2 LAKE RACE Lake Ozark, Missouri
June 22-24 OCEAN CITY GRAND PRIX Ocean City, Maryland
July 27-29 ST CLAIR RIVER CLASSIC St Clair, Michigan
August 18 TRAVERSE CITY INVITATION GRAND PRIX Traverse City, Michigan
August 24-26 FALL RIVER GRAND PRIX Fall River, Massachusetts
September 21-23 LAKE HOPATCONG GRAND PRIX Lake Hopatcong, New Jersey
November 14-18 OPA WORLD CHAMPIONSHIPS at the ENGLEWOOD BEACH WATERFEST Englewood, Florida

Good luck to everyone in 2018!