OPA Racing Annual Awards Banquet
February 2, 2019
The OPA Teams converged in Point Pleasant Beach, New Jersey, at Martell's Lobster House to pay honor to the 2018 National Champions and other Acheivements.

As always the awards banquet was more of a family reunion. It was an awesome night of camaraderie and a little shenanigans. Mr John Haggin also made an appearance via the internet. Entertainment was provided again by "Guns 4 Hire".
The highlights of the evening during this year's awards ceremony were as follows:

The National Champions for the 2018 season were:
Extreme - Miss GEICO

Super Cat - AMH Motorsports

Super Stock - Shadow Pirate

Super Vee Lite - Done Deal

Class 2 - Bat Boat

Class 3 - Wazzup

Class 4 - American Outlaw

Class 5 - Specialized Racing

Class 6 - Smith Brothers Racing/CRC

Class 7 - Dawson Marine
The "Stugots Cup" (High-Points Champions) was presented to the team that has the highest number of points regardless of class. This year it was presented to Nick Scafidi & Scott Porta of "Shadow Pirate".

The coveted "Godfather Cup" goes to an individual or team that demonstrates goodwill, camaraderie, professionalism and sportsmanship throughout the year. This trophy was presented to Jason Saris of "Saris Racing".

The "Jimmy Welsh Trophy" goes to an individual non-racing team member who displays the similar qualities that Jimmy brought to the sport. The recipient of the Jimmy Welsh Trophy went to Allyson Papp of "Done Deal".
Congratulations to all the 2017 winners!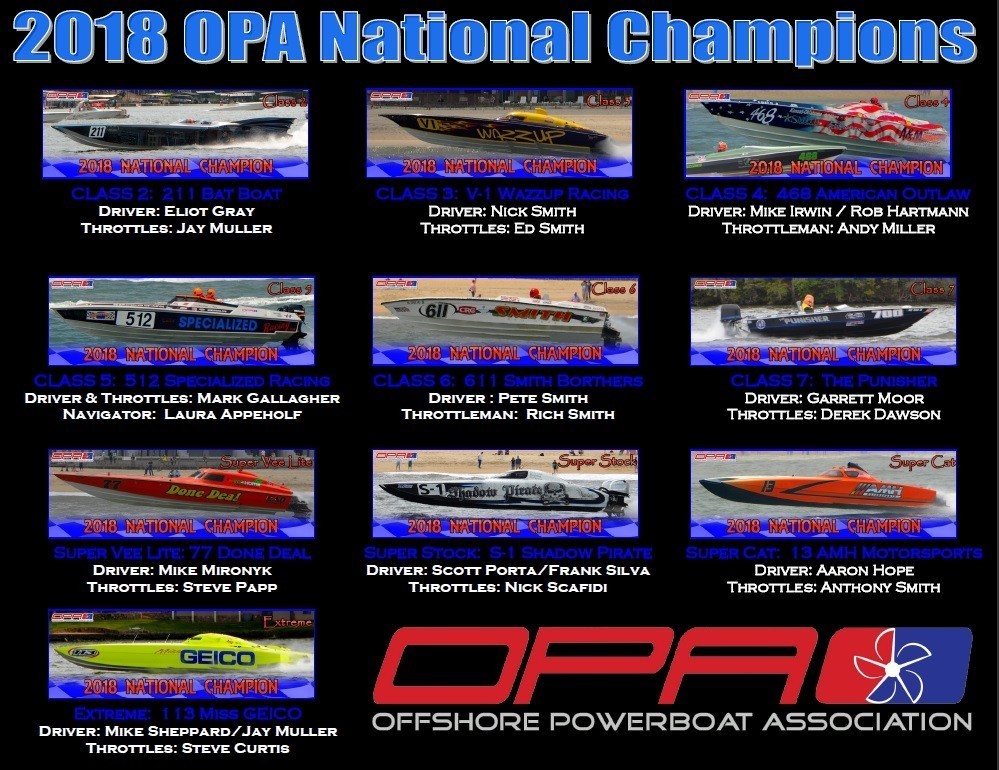 Good luck to everyone in 2019!