Lake Hopatcong Grand Prix
Race Village open to the public
Team Physicals - Lake Forest Yacht Club

Set-up Course Markers
Race Control Operational
Crane and Ramp operational

Race Patrol Fleet & Course Support Fleet on station
RACE BOAT TESTING
RACE 1 (Pontoon)

RACE 2 (Classes TBD on-site)

RACE 3 (Classes TBD on-site)

RACE 4 (Classes TBD on-site)

RACE 5 (Classes TBD on-site)

RACE 6 (Classes TBD on-site)

RACE 7 (Extreme)
9am
7:30am-8:30am
7am
8:30am
8:30am
10am
9am-10:30am
11am-5pm​
Race Starts
Subject to Change
Sunday, September 23, 2018

*Schedule Subject to Change
Race Village open to the pubic
Rescue Team meeting - Lake Forest Yacht Club
Registration - Lake Forest Yacht Club

Race Boat Inspections & Diver Walkthroughs - Race Village

GPS Registration - Race Village

MANDANTORY Racers Meeting - Lake Forest Yacht Club
Patrol & Medical/Dive Team Meeting - Lake Forest Yacht Club
Racer Meet & Greet - Lake Forest Yacht Club

10am
9:30am
10am-5pm

10am-5pm

11am-5pm
5pm
6pm
7pm
Saturday, September 22, 2018

Racer Meet & Greet - Lake Forest Yacht Club

Crane Area - Lake Forest Yacht Club

​Ramp Area - Lake Forest Yacht Club
​Wet Pits - Lake Forest Yacht Club
​Dry Pits - Lake Forest Yacht Club
​Wash Down Area - Lake Forest Yacht Club

Nearest Gas Station - Inquire within Registration
Arrival of Race Boats - Race Village - Lake Forest Yacht Club (35 Yacht Club Dr, Lake Hopatcong, NJ)
Friday, September 21, 2018

Awards Ceremony - Lake Forest Yacht Club

Fueling on-site in the pits is NOT permitted
There is very limited spectator parking in Race Village.
View the below parking locations map.
Please remember, there are no coolers allowed in Race Village.
A shuttle will be available from the Lake Forest Yacht Club to all the below listed locations. The shuttle will start at 10:30am.
Handicap parking will be available at the Lake Forest Yacht Club.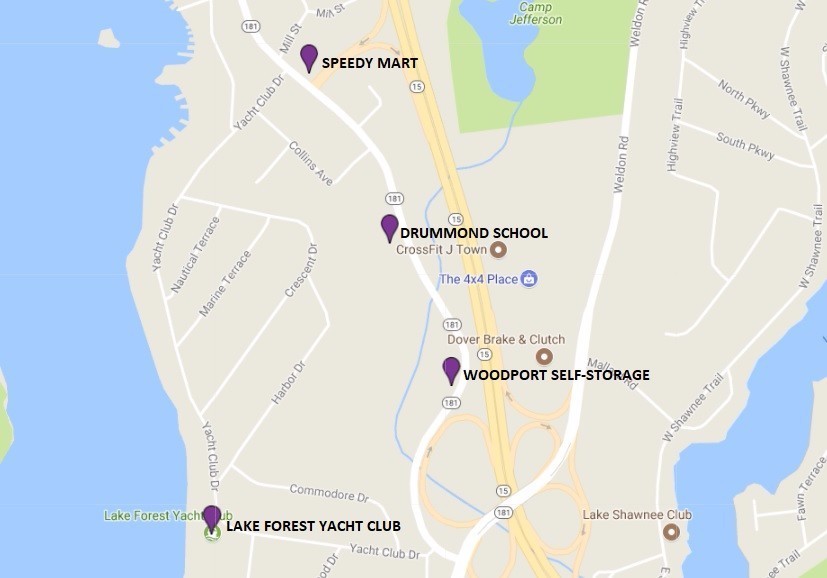 Overflow Parking Lots will not offer Shuttle Services until the first and/or previous lot(s) are full.
Main Lot: Speedy Mart
Overflow #1: Woodport
Overflow #2: Drummond
An entry fee into "Race Village" will be $5 for adults on Sunday only. Kids, Yacht Club members with badges & race team members with credentials are free.